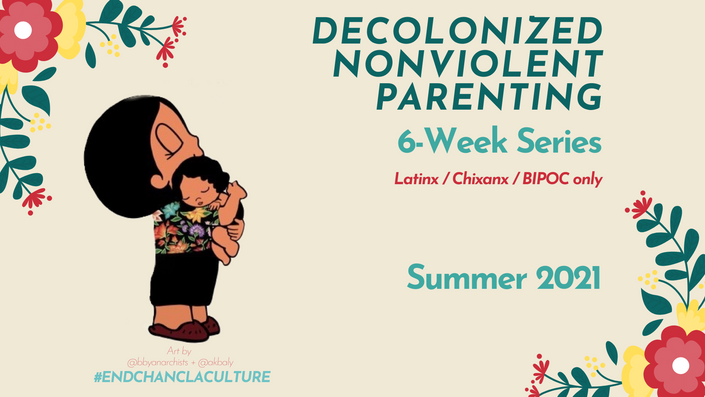 Decolonized Nonviolent Parenting - 6 Week Series (Summer)
6-Week Course Begins 7/25/2021
This 6-week series, beginning Sunday, July 25, 2021, teaches parents a framework for raising kids through the lens of decolonized nonviolence, reparenting, social justice, child development, non-shaming, compassion, and mutual self-regulation. Using reflective exercises, meaningful interaction, and guided activities, parents develop tools and learn how to implement effective strategies to help them raise empathetic, grounded, and socially conscious children while honoring their own journey of parenthood. As parents, we have a unique opportunity to empower our children with the skills for connecting with others, resolving conflicts, and building the world we want to see free of oppression and trauma.
Time to do the work to lay the foundation of remaining connected with ourselves and with our children & familias, heal our lineages, evolve our beautiful cultura, and make a powerful impact on our mundo. 🌻🌎
Participants will receive access to:
Decolonized Nonviolent Parenting (DNVP) manual
Hands-on tools for navigating day-to-day challenges
Guidance for continued support
Community of other parents working on the same practices simultaneously
Access to a wealth of resources unique to DNVP group members
Class 1: Setting Intentions & Understanding the Decolonized Nonviolent Parenting Paradigm
Class 2: Brain Science, Emotional Intelligence & Connecting Communication
Class 3: Reflecting on Our Narratives & Understanding What Activates Us
Class 4: Anger & Self-Regulation
Class 5: Setting Limits Nonviolently
Class 6: Integration, Practice, Review & Planning for Future Support
**THIS COURSE IS SELF-PACED**
However, there will be three (3) Live Integration Sessions via Zoom with Leslie. These sessions are offered as an optional upgrade to your enrollment fee. If you would like to have hands-on support and a space for Q&A, please select the ticket tier with the Live Integration Session upgrade.
Your Instructor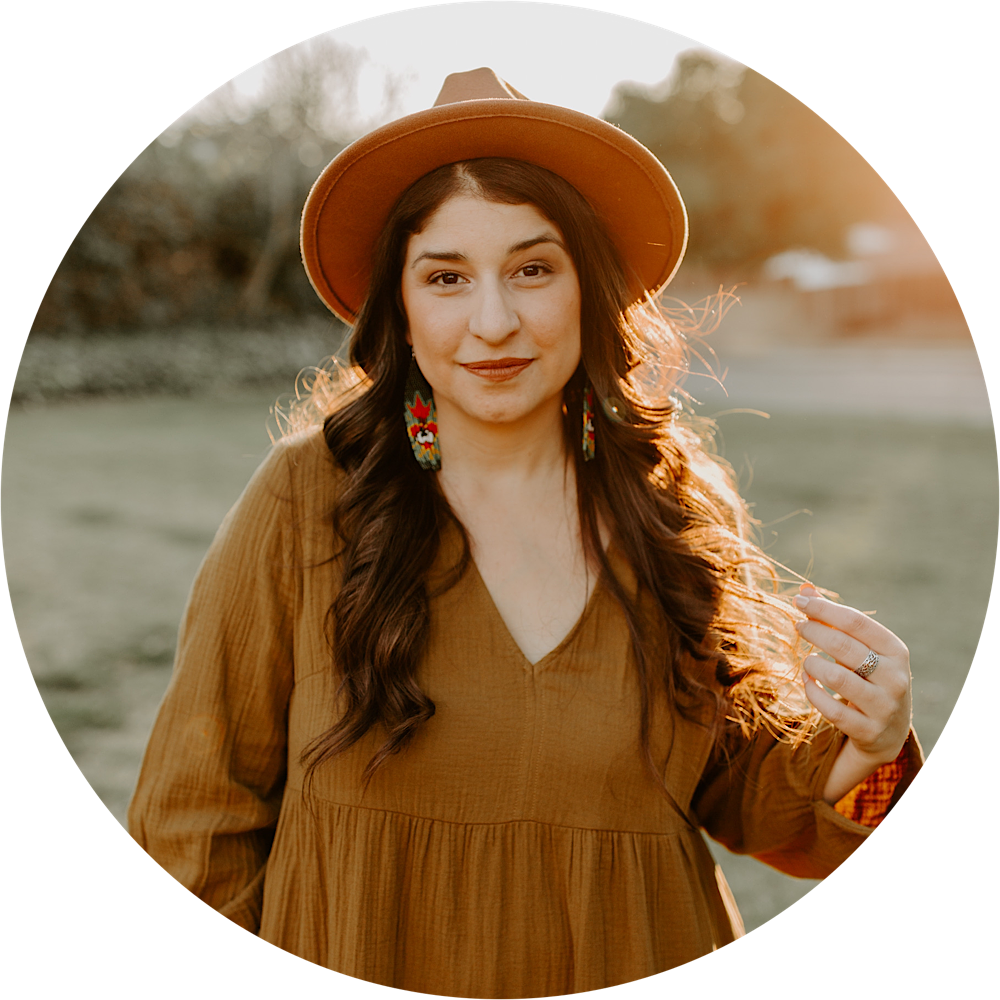 Leslie Priscilla Arreola-Hillenbrand is a first generation non-Black Chicana mother to three biracial children. She is a descendant of Indigenous Tarahumara Rarámuri and Spanish lineages who has resided on occupied Tongva and Acjachemen land, also known as Orange County, CA, all of her life. Leslie shares her medicine by offering coaching, workshops, support and advocacy for Latinx/Chicanx families locally, nationally, and internationally both in-person and online via the Latinx Parenting organization.She founded this bilingual organization and movement intentionally rooted in children's rights, social and racial justice, the individual and collective practice of nonviolence and reparenting, intergenerational and ancestral healing, cultural sustenance, and the active decolonization of oppressive practices in our families. Formerly an early childhood teacher and 1:1 behavioral coach, Leslie has worked with children and families for over 13 years. She has a dual degree in Child Development & Family Studies as well as Family Life Education from CSULB, and attended the Masters in Social Work program at Cal State Fullerton before pausing to focus on her babies and the Latinx Parenting movement. She is trained as a facilitator in various parent education curricula including Trauma-Informed Nonviolent Parenting, Positive Discipline, Supporting Fatherhood Involvement (SFI), Community Parent Education (C.O.P.E) and others. She has facilitated groups in both Spanish and English for hundreds of parents in schools, transitional homes, teen shelters, drug rehabilitation centers, and family resource centers throughout Orange County, CA. Over the years, Leslie has long worked within mental health agencies in positions serving as Interim Director of Parent Education for the Child Abuse Prevention Center in Orange County, Youth & Professional Programs Manager for NAMI Orange County, and as a Consultant for the Dads Matter Program of Children's Bureau.
Course Curriculum
Course Intentions & the Decolonized Nonviolence Parenting Paradigm (Module 1)
Available in days
days after you enroll
Deconstructing Our Narratives, Thorns and Activations (Module 2)
Available in days
days after you enroll
Understanding the Brain, Emotional Intelligence, and Connecting Communication (Module 3)
Available in days
days after you enroll
Frequently Asked Questions
When does the course start and finish?
The course begins on July 25, at which point access to modules will commence! It is a self-paced online course but it is encouraged you begin on the start day and begin absorbing the information with your cohort.
How long do I have access to the course?
After enrolling, you have access to this course for 12 weeks (three months total)- across any and all devices you own.
This course is closed for enrollment.